QuickBooks Online or QuickBooks Desktop – this is perhaps a perennial dilemma for entrepreneurs starting or running a small business. Back in the 1990s, when QuickBooks was launched, life was simpler. The desktop version of the software was the only option available, since providing software over the internet wasn't a common practice back in the day. Today, not only are there desktop and online versions, but also multiple sub-categories in each to choose from, which means that picking the most suitable option for your business model is just getting trickier.
Choosing the Right Version of QuickBooks for Your Business
Over the years, QuickBooks has become synonymous with expense tracking, budgeting, and financial management and is used for myriad purposes, from simplifying personal accounting to tracking complex business finances. With millions of established businesses still using the desktop version and newer ones preferring the online version, each enjoys its own loyal user base. The fact that there is no cut-and-dried answer to which of the two is the better choice only further complicates the process of choosing one over the other. There are situations where the desktop version outperforms the online version and vice-versa. In the end, it all boils down to how well the respective features fit your business needs. Below are some factors that will help you make the right choice.
When to Choose QuickBooks Desktop
The desktop version works well for product-based businesses due to the following features:
Multiple Inventory Tracking:

The desktop version comes loaded with two options for inventory tracking – the FIFO (First In First Out) method and the average cost method. The online version only supports the FIFO method. The desktop version, however, can help in streamlining the inventory tracking process manifold, as businesses have the option of using either one or both of the methods at a time.

Batch Invoicing:

The batch invoicing feature in QuickBooks Desktop allows you to invoice multiple clients at the same time if the type of service and the amount to be billed are the same. This helps in preventing duplication of effort and can be a great time saver.

Industry-specific Versions:

The QuickBooks Desktop version comes with tailor-made options for businesses operating in different niches such as Manufacturing & Wholesale, Contractor, General Business, Retail & Nonprofit, and Professional Services. This feature is missing in the online version.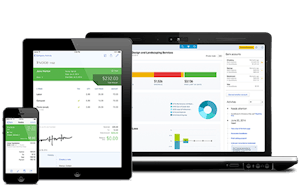 When to Opt for the Online Version
QuickBooks Online is more suitable for service-based businesses that often operate with a virtual team given the following benefits of this version:
Greater Accessibility:

Your accounts staff and other employees can access your QuickBooks account from any location. There is a provision for setting up multiple user IDs and passwords for a single online account, so that people who need to access your data can reach it anywhere, anytime.

Multiple Device Support:

Unlike the desktop version which, of course, runs on software that is installed on a desktop computer, the online version can be operated from a PC, tablet, or mobile device. You just need an internet connection to access your data.

Automatic Updates in Real Time:

Any changes to your data are updated automatically and in real time. If multiple users are working on a single account at a given time, all the changes made by each of them will be reflected in your QuickBooks Online account immediately and simultaneously.
Desktop Versus Online: Difference in Primary Features
Another factor that can help businesses choose between QuickBooks Desktop and QuickBooks Online is the difference in their primary features. Here are some notable ones to consider:
In the Online version, data is backed up automatically and secured by Intuit servers. In the Desktop version, you need to create and set up the data backup plan manually.
One advantage of Quickbooks Online is the ability to try it for 30 days free. Data on QuickBooks Online can be accessed from multiple devices such as mobile, PC and Mac. In case of QuickBooks Desktop, data can be accessed using either a PC or Mac only, depending on the version you have installed.
The Online version offers accessibility to different users in different locations at the same time. You'd need to purchase hosting services to allow the same kind of accessibility in the Desktop version.
The Online version comes with free unlimited technical support. However, in the Desktop version, support is free only for the first month, after which you will have to purchase a support plan package.
The Online version is also ahead in terms of software upgrade. The latest version of the QuickBooks software is automatically made available online; Desktop users must purchase upgrades to be able to access new features.
There is no provision for free trials in QuickBooks Desktop, whereas the Online version comes with a 30-day free trial period. This means there is no scope of testing the software for suitability before footing the bill with QuickBooks Desktop.
The Cost Factor Vis-à-Vis Functionality
QuickBooks Desktop can be purchased with a one-time payment, whereas QuickBooks Online follows a quarterly subscription format. The Desktop version is available in four variants: Pro, Mac, Premier, and Enterprise priced at $299.95, $299.95, $499.95, and $995.95, respectively. The Enterprise variant, which allows up to 30 users, is perhaps the most suitable choice for quickly expanding small businesses. Both QuickBooks Premier and Enterprise add a great deal of functionality to business operations with the industry-specific option that is exclusive to these two variants. QuickBooks Online, on the other hand, is available in Simple Start, Essentials, and Plus subscription plans with a quarterly cost of $15, $30, and $40, respectively. One major drawback of the Online version, in comparison to QuickBooks Desktop, is the number of users supported in different plans. While Desktop supports 5 users for Mac, 3 for Pro, 5 for Premier, and 30 for Enterprise, the Online version only allows 1 user access for Simple Start, 3 for Essentials, and 5 for Plus. This severely compromises the Online version's ability to deliver on the promise of allowing several users access from different locations. Another disadvantage is that the provision for entering and paying bills as well as managing and tracking inventory is only available for the Essentials and Plus plans; it is unavailable with the basic Simple Start plan.
Ease of Use
Both QuickBooks Desktop and QuickBooks Online are incredibly simple to set up and use. You don't need any technical understanding of accounting and finance to be able to use them. The file setup process is essentially the same for both Online and Desktop versions. Once the initial setup is done, you can directly download your bank transactions to your QuickBooks account through online banking. This process is a lot quicker in the Online version. Similarly, both versions come with an extremely user-friendly interface that is easy to use and navigate. The QuickBooks Desktop interface underwent a major overhaul in 2013; some of the new clean, easy-to-navigate features of the Online version were applied to the Desktop product as well. This, coupled with easy terminology and an organized menu, means you will be up-to-speed with your QuickBooks account in no time, regardless of which version you choose.
The Bottom Line
QuickBooks Online seems like a terrific product on paper, but not all of the features translate into its functionality. If you are a product-based business operating out of a single office and looking at consistent expansion, the Desktop version is the way to go. On the other hand, the Online version is more suited for a service-based startup working with a virtual team in different geographic locations. Whatever your choice, you won't regret having invested in QuickBooks for streamlining your day to day finances. Looking for additional reading on the subject? Take a look at these articles: