If you are using a desktop version of QuickBooks, then your accounting application is hosted and maintained on your computer or your local server. Desktop versions of QuickBooks are only accessible by you and your designated staff from a specific location, which is most likely your office. Moving QuickBooks to the cloud will allow you, your employees, and your accountant to remotely access your accounting application and its data from anywhere an internet connection is available.
The Advantages of Moving Your Business's QuickBooks to the Cloud
How do you know if moving your QuickBooks data to the cloud is the right move for your business? Here are some of the advantages that cloud hosting has to offer: Your data will be more secure. The company that provides your cloud hosting service will be responsible for storing your data securely and redundantly. If your business experiences a power outage, natural disaster, fire, or theft, the availability of your data will not be jeopardized.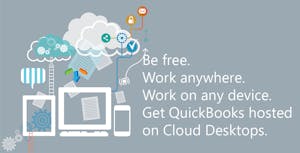 Your data will be accessible to multiple users anywhere, anytime. Cloud-based storage will allow you and your designated users to access your data from any desktop computer, laptop computer, tablet, or smartphone that has an internet connection. Document sharing and real-time editing make collaborating with your staff easier. You will always have the most recent QuickBooks updates. Your cloud service provider will automatically install the latest releases of QuickBooks for you as they become available. You will save time. Maintaining computers, software updates, and network configurations is very time-consuming. Moving your QuickBooks data to the cloud will allow you and your staff to outsource some of your business's IT tasks and free up valuable labor resources. You will save money. Most cloud hosting services will allow you to scale your plan according to the needs of your business. Using cloud services will allow you to save on data security and IT staffing, as well as hardware and software upgrades. In addition, you will be able to budget your IT expenses without the worry of unplanned expenditures for internal IT problems.
Using an Online Version of QuickBooks to Move Your Data to the Cloud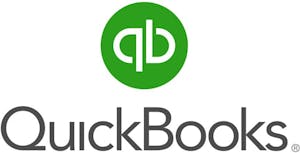 Intuit, the company that makes QuickBooks, offers versions of the QuickBooks products that have been rewritten specifically for online use. If you choose one of the online versions of the application, your data will be hosted on Intuit servers only. Therefore, you will be dependent upon Intuit for security, support, and availability. Your most important consideration regarding this format of QuickBooks cloud hosting is that online versions of QuickBooks are different than the desktop versions, and they don't offer all the same features. For example, unlike the desktop versions, the online versions offer automation options for customer billing, emailing reports, and downloading bank transactions. However, many of the customized features available in the desktop versions are not available online. These include 1099 preparation, tracking mileage and expenses, budgeting, and the ability to customize forms. You should carefully consider the pros and cons of each version before you make the decision to use an online version of QuickBooks.
Using an IT Company to Move Your QuickBooks Data to the Cloud
If you use an IT company to host your QuickBooks data on the cloud, you will not have to use a different version of QuickBooks. In fact, you will access the exact same QuickBooks product as you are using now. The IT company will move your QuickBooks data to the cloud, securely host your data on the cloud, and update your QuickBooks as new releases become available. When you access your QuickBooks on the cloud, it will look and feel the same as the QuickBooks on your desktop, and you won't have to worry about the unavailability of any program features. QuickBooks hosting on the cloud is available from many companies that Intuit has tested and approved. Unlike Intuit, which is limited to hosting your QuickBooks data, an IT company can move and host any or all of your other applications and data on the cloud. If you use an IT company, you will even have the option to implement a full cloud conversion.
What is the Best Option for Moving Your QuickBooks Data to the Cloud?
If you are ready to move your QuickBooks data to the cloud, you have to decide if you want to use Intuit or an IT company to provide your cloud hosting service. Which choice will best suit your business? If QuickBooks is the only application you use and you are not concerned with losing some of the program's features, then using Intuit to provide on online version of QuickBooks will be sufficient for your needs. However, if you are averse to losing any of the features of your current version of QuickBooks and you use additional applications that you would like to move to the cloud, using an IT company is your best option. Most importantly, selecting a reputable and reliable IT company is essential for ensuring the safety and security of your applications and data.