In the world of business, there are very few guarantees. One thing that can be absolutely assured, though, is that at some point the lights will go out. No matter how diligently you plan, at some point your business is going to lose power. Companies that are unprepared for this inevitability can be seriously hurt by a power outage in myriad ways that range from merely troublesome to potentially disastrous. The stakes are dire, but they're also easily overcome if you're willing to understand the risks and plan ahead. If you've yet to consider the costs of a power outage, here are some tips to keep you ahead of the curve and out of danger.
The Potential Cost of a Company-Wide Outage
Every year, hundreds of companies lose power for at least an hour or more. A study done for the Department of Energy indicated that power outages and blackouts cost companies upwards of $80 billion each year. That cost can be easily measured in a variety of ways. When the power is out, your employees have nothing to do but sit and wait for the lights to come back on. During that outage, your customers will likely be unable to get in touch with you and possibly unable to access your product, which can result in both a rise in complaints and a loss of revenue. Perhaps most calamitous, though, is the potential for lost data. You could lose years of information if your company hasn't properly prepared by relying on a trustworthy means of data recovery like the kind provided by the pros at IT Services Group in Media, Pennsylvania.
Preparing for a Physical Power Loss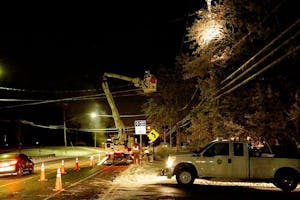 The first thing to do when the lights go out is to worry about your folks on the ground. Help provide for your employees by keeping some useful emergency supplies—like first aid kits, flashlights (and extra batteries), bottles of water, and snacks—in place that is easily accessible in an emergency. If the power outage is local, and things outside aren't dire, you could perhaps just send your employees home to work (especially if you employ a
BYOD strategy
in your office). Not only will this move make your employees happy, it will also reduce the loss of productivity and customer dissatisfaction (since your employees will presumably be at home and working on defusing any complaints). Depending on the reason for the power loss, however, your employees or your customers might be stuck indoors for a while. That's why, in addition to a standard supply kit, you should also make sure that you have at least one phone that's capable of making and receiving phone calls without the benefit of electricity. You should also keep a radio on the premises so your employees can stay attuned to the most up-to-date reports. You might also include a deck of playing cards or some board games in case your people need some entertainment. Sure, you may not be able to get a lot of work done, but you can still work on some team-building, and that's never a bad thing.
Planning for a Digital Power Loss
First and foremost, don't ever keep all your information on site and back it up at regular intervals. That way, if and when you lose power, you won't have to worry about the possibility of cataclysmic data loss. On site, you can use surge protectors and battery backups to help keep critical computer systems running in the short term. If a data loss might lead to potential security risks, be sure to discuss this possibility with local law enforcement and collaborate on a plan to avoid any problems in the event of a power outage. You should also test your outage plans regularly to ensure that your backup is working properly and that your employees are equipped to handle a real emergency. Remember that a power outage will happen, so it's extremely important that your employees know what to do.
Plan Now, Sigh in Relief Later
Far and away the most important thing to do when attempting to curb the damage done by a power outage is to plan ahead. One call to IT Services Group in Media, Pennsylvania and you'll never have to worry about data loss during an unexpected outage again. Thanks to our Failsafe Backup Systems, you can stay focused on the physical toll that a power outage takes. We back up your entire IT environment. Every server, every desktop, every laptop. We don't just store the data for you, either. Our comprehensive backup services will protect the operating system, applications, services, and configuration settings. Even better, our backup systems are working all day, every day to ensure that you can get your most important information exactly when you need it, with zero downtime or quality loss. When you need to sleep soundly, IT Services Group is the name to trust.